Book now
Hotel Castex Paris
CURRENCY: U.S. dollar USD

Euro (EUR)

Pound sterling (GBP)

U.S. dollar (USD)

Canadian Dollar (CAD)

Swiss Franc (CHF)

Yen (JPY)

Australian Dollar (AUD)

Yuan (CNY)

Rouble (RUB)

Rupee (INR)

Czech Koruna (CZK)

Norwegian Krone (NOK)

Danish Krone (DKK)

UAE Dirham (AED)

Brazilian Real (BRL)

Hong Kong Dollar (HKD)

Jordanian Dinar (JOD)

Malaysian Ringgit (MYR)

New Zealand Dollar (NZD)

Omani Rial (OMR)

Kina (PGK)

Romanian New Leu (RON)

Saudi Riyal (SAR)

Swedish Krona (SEK)

Singapore Dollar (SGD)

Thai Baht (THB)

CFP Franc (XPF)

South African Rand (ZAR)

Moroccan Dirham (MAD)

Argentine Peso (ARS)

Taiwan Dollar (TWD)

Kuwaiti Dinar (KWD)

Bahraini Dinar (BHD)

Icelandic Krona (ISK)

Philippine Peso (PHP)

Bermudian Dollar (BMD)

Paraguaian Guarani (PYG)

Brunei Dollar (BND)

Polish Zloty (PLN)

Shekel (ILS)

Mexican Peso (MXN)

Fiji dollar (FJD)

Qatari Riyal (QAR)

Kazakhstan Tenge (KZT)

Belarusian Ruble (BYN)

Namibian Dollar (NAD)

Uzbekistani Som (UZS)

Dobra (STN)

Honduran Lempira (HNL)

Malagasy Ariary (MGA)

Convertible Mark (BAM)

Indonesian Rupiah (IDR)

Colombian Peso (COP)

Tunisian Dinar (TND)

Turkish Lira (TRY)

Vietnamese Dong (VND)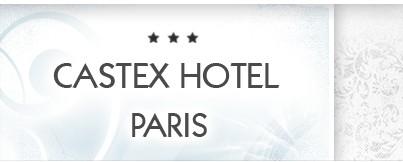 Home > Hotel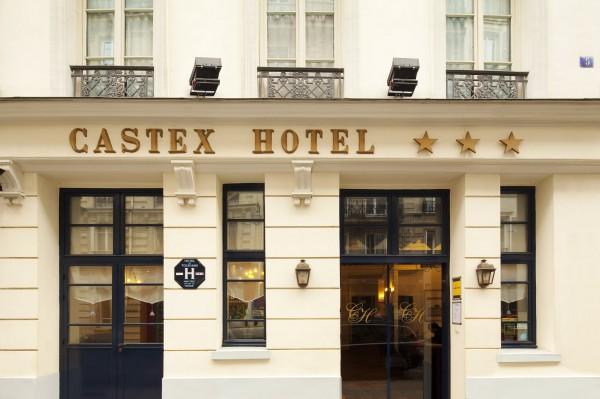 We welcome you to our Hotel Castex, a three star hotel that enjoys an extraordinary position right in the centre of an upscale, famous Parisian neighbourhood, called Marais. This beautiful building creatively maintained its style and original type furnishings that date back to the XVII century. In this elegant setting the attractive furnishings and wrought iron come together in perfect harmony, creating a charming and picturesque atmosphere.

You will spend an unforgettable vacation here, and thanks to our grand experience, you will feel at home.
You can count on our reception to be at your complete disposition: our personnel will help you with the surroundings, offering suggestions of where to go, what to visit, restaurants to dine at, great places to shop and the good shows to see.
We offer bookings via fax.

We offer complementary baggage deposit
The hotel is completely air-conditioned, and has a wonderful lounge area that is a perfect gathering area, reading haven or place to relax and talk about your tour around the city.

This is a no smoking hotel.
Give us your Feedback
Castex Hotel, 5, Rue Castex - Paris